Paper Format
The paper format for the final submission in the same one which was used for the initial submission. All camera-ready papers (conference, workshop, special session) should stricty adhere to the required format.
Notes on PDF compatibility
The camera-ready papers should be submitted as PDF documents, with all fonts embeded. The papers must be conformant with the IEEE Xplore® requirements. The PDF Specification for IEEE Xplore® is version 4.02 (July 2008) contains detailed instructions, and may be downloaded here.
To facilitate the PDF conformance checking or to create a PDF file conforming IEEE demands out of your source, you may use the IEEE PDF eXpress™ (follow the instructions at the bottom of this page). IEEE PDF eXpress is a free service to IEEE conferences, allowing their authors to check for IEEE Xplore® compatibility of PDFs that authors have made themselves (PDF Check function) or to make IEEE Xplore®-compatible PDFs through source upload (Conversion function).
Papers failing to meet the IEEE Xplore® PDF requirements can not be included in the conference proceedings.
Notes on paper format and templates
Papers should adhere to the standard IEEE double-column format for conferences (see templates below). The paper length is limited to eight (8) pages (no exceptions). Please double-check the paper size in your page setup to make sure you are using the A4 size paper layout (210 x 297mm; i.e. 8.27"x16.69"). The authors are kindly requested to proofread and check the layout of the final paper before submitting it.
Also, please check to make sure that the authors' first names are only marked as initials, while the last names are in full (i.e. First Lastname is wrong; F. Lastname is right). Note that the capitalization of words in the title should be as in the template (all nouns and adjectives should be capitalized, not just in the first word).
The following style files and templates are available for preparing the paper:
LaTeX template file (cls, bst, as well as sample tex and pdf files), a sample PDF file (obtained by using the "IEEEtran.cls" and "IEEEtran.bst"), with detailed instructions for paper formatting:

LaTeX Template
- 662 kB
MS Word 97/2000/XP/2003/2007 template file (DOC and PDF), a sample file with correct formatting and fonts, with instructions for paper formatting:

MS Word Template
- 188 kB

HowTo.txt
- 1019 B
Paper submissions must use Portable Document Format (PDF). Postscript files may be converted to PDF by using Acrobat Distiller or Ghostview/Ghostcript.
MS Word users may also use Create Adobe PDF Online, a free trial service that can convert MS Word to PDF.
Checking IEEE Xplore®-compatibility
Please go to the IEEE PDF eXpress site and click on the link "New Users - Click Here" and fill in your information. You will need the Conference ID.
Use Conference ID:
contel09x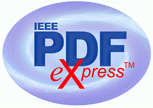 Click on the image to connect to IEEE PDF eXpress™
or
use the link below
[
http://www.pdf-express.org
]
PLEASE NOTE that PDF eXpress is NOT a paper submission service, therefore you will need to upload the final paper again into EDAS.
Organized by: University of Zagreb - FER, IEEE Communication Society Croatia Chapter